A TOUR TO CRANGANORE
,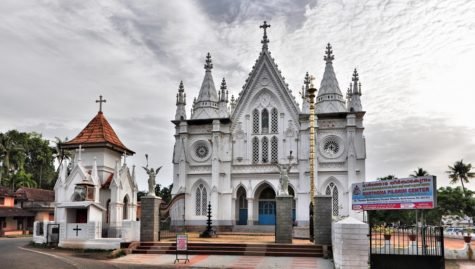 Muziris – Tracing the foot steps of Religion
This tour offers an introduction to the many faiths and cultures of the Malabar Coast.
Muziris is the name of an ancient port city on the Kerala coast, an hour's drive north of Cochin. The city traded in spices, silk, and precious stones; with exports to Rome, Greece, Egypt, etc. Enriched by trade contacts, Muziris became a melting pot of world cultures. The earliest Jewish settlers in India landed on the Malabar Coast and flourished in Muziris. Muziris is where St. Thomas the Apostle is said to have first landed in 52AD, bringing Christianity to India. The first ever mosque in India was also built here.
After nearly 1000 years of thriving trade, the port of Muziris was damaged in a major flood, and Cochin took its place as the most important trading port in Kerala. However, the Muziris area – covering Kodungallur and Paravoor – continues to be as multi-cultural as ever. Old churches, synagogues, mosques and temples attest to the great confluence of cultures that Muziris was. In a world full of strife, the monuments and bazaars of Muziris stand as beacons even today, a testament to the harmonious co-existence of multiple faiths on the Malabar Coast.
Tour Coverage: On this tour, we will visit the following:
Kodungalloor Bhagavathi Temple: A Hindu temple to Goddess Bhadrakali in existence since ancient times and rebuilt over the years. Steeped in powerful myths and legends, the temple attracts many locals and pilgrims for its daily worship, rituals and festivals.(bare foot)
Chennamangalam synagogue : Old synagogues of the Malabar Jews, constructed using Keralan building traditions, but adapted to suit Jewish ritual and liturgical requirements. Near the Chennamangalam synagogue is also the first Christian Seminary and the first printing press in India.
Kottakavu Church: A church of the Syrian Christian community of Kerala, believed to be the one of the seven original ones established by the Apostle St. Thomas
Paliyam Nallukettu :
The ancestor home of the Paliath Achans, the prime ministers to the Rajas of the State of Kochi.
Cheraman Juma Masjid: The first mosque in India, built after the Chera king of Kerala met the Prophet Muhammad. It has been renovated several times since then(Friday prayer into 2pm)
Lunch at Seashore residency , Kodungallur
Local bazaar (Parur market Tuesday & Friday ) : We will also walk through an interesting and colourful local bazaar, selling everything under the sun
Those who are interested can also visit the excavation site at Pattanam. This is a small archaeological site which contains some artifacts which were traded between Muziris and the rest of the world.
Duration: Full day (6-8hrs depending on your interest) with a break for lunch. All days of the week except Mondays.