Insignia – Through the life of India
,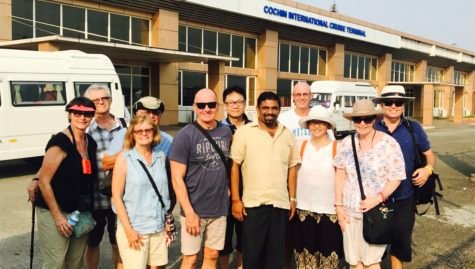 Cochin – Mangalore – Mormugao (Goa) & Mumbai

Muziris heritage – Day Tours offers three variety shore excursions in Cochin ,Mangalore , Goa & Mumbai to fit your lifestyle and your visit to Our country, with these tour itinerary you can experience the lights and sound of Cochin , Mangalore , Goa , & Mumbai in a short time.
This tailor made special tour for INSIGNIA and enjoy the service of our friendly English speaking guides, committed to ensure your India tour runs smoothly in cochin , Mangalore, Goa & Mumbai
This tour includes:
• Air conditioned mini coach and English-speaking Tour guide
• Pick up and drop off at pier
• Small group tour of 12 people
Choose between a private or small-group excursion. You will not have to form your own group and we will be happy to place you with other cruisers from your cruise ship.
Expect top quality excursions or your money back! Everything is possible and we will be happy to accommodate many requests.
Please note that we can get fully booked in the high season, especially if you are arriving with a cruise ship. If possible, please contact us as early as possible.
COCHIN – BACKWATERS CRUISE ONBOARD HOUSEBOAT & JEW TOWN

An unmissable opportunity to discover the natural beauty of the backwaters of Kerala in total comfort, sailing peacefully along the glistening canals with abundant tropical vegetation and observing the rural customs of Kerala.
What we will see
Alappuzha
Cruise on the backwaters ONBOARD PRIVATE HOUSEBOAT
Tropical vegetation
Activities of the village residents
Typical lunch
JEW TOWN VISIT (OLD COCHIN)
What we will do
From Kochi we take the mini coach towards Alappuzha, previously known as Alleppey, making a brief stop on the way.
We arrive in Alappuzha, situated in a dense network of leafy tropical canals, and board the boat for an idyllic journey along the so-called backwaters, rivers, lakes and canals that connect the coast to the southern interior part of Kochi. For centuries these canals have been a secure, efficient mode of transport for goods and people moving from the interior to the coastal towns.
We enjoy a delicious welcome drink and, in the comfort of our boat, we will sail along the glistening canals with abundant tropical vegetation, admiring the majestic forests, lagoons and the outskirts of the city dotted with palm trees.
We also see the village residents bathing and washing their clothes, and the livestock on the riverbank.
Having feasted our eyes on so much beauty, we will now also indulge our palates with a typical lunch served on board.
Mangalore Land Excursion with Artisans village

Discover India's Mangalore highlights and Pilikula Nisargadhama's Artisan Village on a 3-hours and 45-minutes tour. Enjoy a ride past the city of Mangalore's main-highlights, including Gokarnath Temple, dedicated to Lord Shiva, Town Hall, and a local fish and vegetable market. Visit Pilikula Nisargadhama's Artisan Village and experience the area's rich tradition of craftsmanship. Explore traditional cottages dedicated to preserving various arts and see the traditional manor house of the coastal landlords, the Guthu House.
Highlights:
• Mangalore: A panoramic ride takes you past points of interest, including Gokarnath Temple, Town Hall, and local markets.
• Artisan Village: Experience the area's rich traditions of craftsmanship, watch live demonstrations and shop for souvenirs.
• Guthu House: A traditional manor house of coastal landlords, with intricately carved woodwork; built for climate extremes by skilled artisans.
GOA – Discover Goa Churches,Markets and Spice plantation

Explore Goa's historical and religious highlights on this tour. visit the Portuguese-built UNESCO-listed Basilica of Bom Jesus, Fontainhas, Latin quarters and Panjim flower market as you learn about Goa's colonial history and culture. You will also be visiting AND RELAX 2 HOURS AT the popular UTORDA BEACH and lunch at Zeebop by the sea Restaurant
A visit to the churches of Old Goa, the "Rome of the East", which was the administrative seat of the Portuguese. We will visit Se Cathedral (the seat of the Archbishop of Goa), and the Basilica of Bom Jesus which contains the body of Saint Francis Xavier, the Jesuit missionary who was canonised in 1622. A brief walk through the heritage district of Fontainhas – this is a residential area, the Latin quarter of Panjim where the traditional colourful houses of the Catholic and Hindu community are still preserved. Here you will see the original fountain after which the aea was named. Bazaar walk through the bustling Panjim fish and vegetable market – this is a large colourful market where you can see all sorts of interesting things on offer, including household wares, spices, fish, meat, vegetables and many other goods. It's a great way to see daily life in Goa!Enroute to pier we will spend 3 hours at spice plantation , the stop includes lunch at the plantation
TOUR PRICE $85 PER PERSON
Mumbai – MUMBAI AS LOCAL

Explore the unique local culture, industries and people in the frenetic sprawl known as Mumbai, the capital and economic engine of India, on this full day excursion.
09 AM Depart to Depart to Crawford Market (Fruit / Flowers / Vegetable / Pets Market)
Arrive and visit Crawford Market.
Depart to CST station (Victoria Terminus – World Heritage Site).
Arrive at CST station to see the Mumbai local lifeline.
Depart to the Dhobhi Ghat at Colaba (Open air laundry) enroute drive past Marine drive, Nariman Point, Mumbai
University and High Court.
Arrive and visit Dhobhi Ghat and enjoy a photo-stop of the washing place.
Depart to visit Dabawalla.
Arrive and visit Dabawalla.
Depart to Hotel Taj Mahal Hotel (If you wish you can have your lunch here)
Arrive at Hotel Taj Mahal (Time free for lunch on your own)
Walk up to Gateway of India which is just opposite Taj Mahal hotel.
Arrive and visit Gateway of India.
Depart to Churchgate railway station to take a short ride by the local train.
Arrive at Churchgate railway station and take a local train ride till Charni road railway station.
Arrive at Charni road railway station and later depart to Girgaum Iskcon Temple.
Arrive and visit Girgaum Iskcon Temple.
Depart to the ship en-route drive past via Marine Drive.
1545 hrs: Arrive back at the ship.
In the full day tour you may choose to stop off at a local restaurant for lunch. Ask your Guide for suggestions. There are some world class restaurants serving a variety of cuisines so there is so much to choose from.
TOUR PRICE $85 PP
MUMBAI & COCHIN JEWISH HERITAGE TOUR ALSO AVAILABLE on request
TAJ MAHAL TOUR AVAILABLE AT $1200 PER PERSON WITH ALL FLIGHTS AND 5 STAR HOTELS