Paravur Jewish Synagogue Tour
,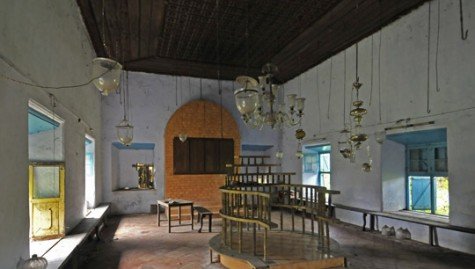 The building is located in the former Jewish Street of the Paravur region. It served as the place of worship for the Jewish community that settled very close to the Paravur Market.
The complex comprises of two buildings – the double storied entrance building and the main synagogue separated by an open space. The entrance building or the Padipura features two rooms on either side which was used for storage on the ground floor and Hebrew classes were conducted on the first floor. Beyond this is a small courtyard which leads to the main entry to the synagogue.
The synagogue is attractive; there's a pillared entryway that leads from the two rooms at the main entrance to the prayer place .The prayer hall consists of two rooms; a rectangular room generally used for meetings and the other main prayer room with the Bimah and the Ark. There is a balcony above the eastern entry, on the first floor, which was used by the reader on certain special occasions. The ceiling and the brackets supporting the balcony is decorated with gilded carved wooden rosettes, typical to most synagogues. Behind this balcony is the women's gallery, which can be approached by a staircase that was situated near the entry to the synagogue. The wooden doors that existed (now missing) were gracefully curved at the upper side of the closure point. The original Bimah and Ark were taken to Israel in 1992 and reconstructions of the original have been installed in their place.
Situated about 100 m from Parur on the Kodungalloor road of Kerala, the synagogue is one of the two Jewish synagogues placed in the Muziris heritage project region.
At Muziris, trade and religion grew together. This synagogue must have been the place of worship for the Jews that settled very close to the Parur market. Though the users of the synagogue have all but faded away, both the market and the synagogue still exist. The Parur market opening to the river Periyar still functions twice a week, a boat jetty has been constructed there, and the Jew street still goes by that name, though one of its two pillars at the entrance has been knocked down.
The balcony of the synagogue is supported on decorated pillars and gilded beams. The decorations on the ceiling and the door carvings are similar to those of the Chendamangalam synagogue.
With the opening of the Parur visitor centre, the synagogue will be within walking distance from there.
Opening time 10 AM to 5 PM
Entrance fee – INR 20 for Indians and INR 150 For Foreigners